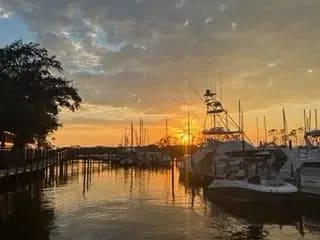 Do you ever wonder what is on the other side of the Bay? So many visit the beaches and miss the bay. Nestled beautifully on the north side of the the 293 bridge across from Destin sits a quaint town called Niceville. Filled with some amazing restaurants and Marinas that sit opposite of Destin Florida. The picture below was taken from the marina at Blue Water Bay. Its name is Bluewater Bay Marina which also hosts a waterfront restaurant such as LJ Schooners & Dockside Restaurant and Oyster Bar. Niceville has several beautiful spots to watch the sunset and relax with a friend or be alone with your thoughts. Most of these spots are nestled
in so go out and explore! There is more to this amazing area than just the beach. Its part of what your Dockside Team loves about this area!​​​​​​​

Often our friends do not know how to pronounce Choctawhatchee Bay. Hatchee is the Indian word for River. You will see many rivers in the South that end with hatchee. Choctaw is the name of the native people who lived in this area. Put the two together and you have Choctaw Hatchee. That is how you pronounce the name.